Axhilirit© Pain Therapy
Axhilirit Pain Therapy combines 3 Traditional Remedies to assist in excellent topical pain relief.
Used by Massage Therapists, Extreme Sports Enthusiasts, Martial Arts Specialists, Yoga Instructors, individuals with arthritic joints, etc.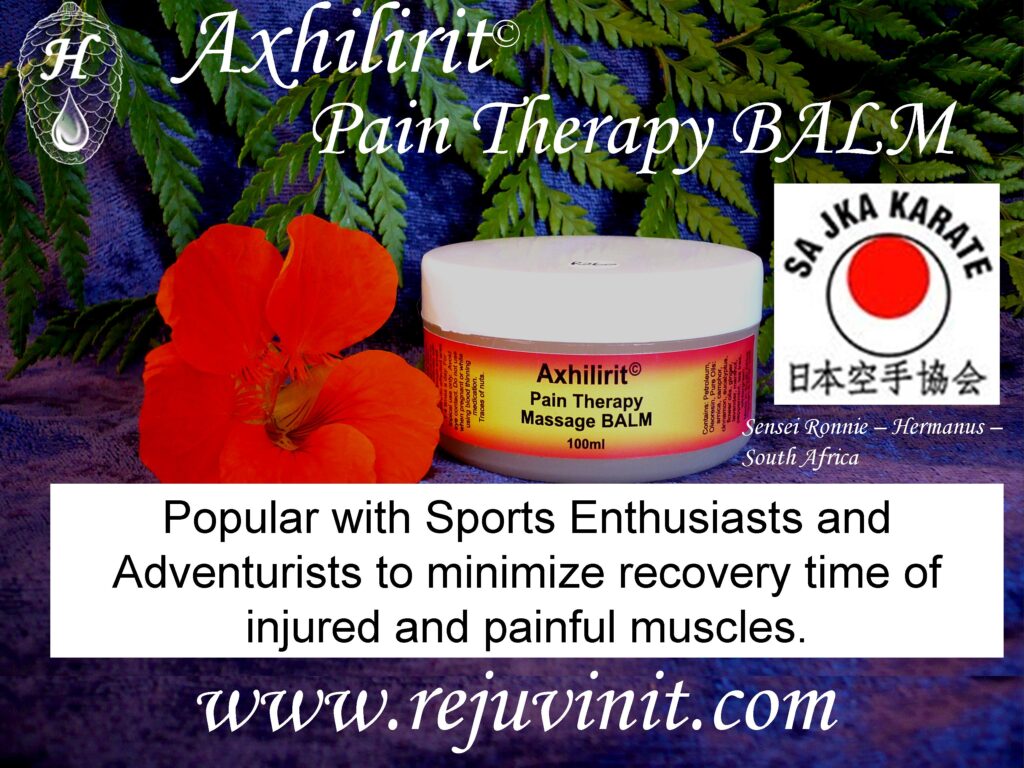 Axhilirit© Pain Therapy Massage Oil and Balm
With ARNICA and WINTERGREEN
Suitable for Pain Management associated with Stress Spasms and Muscle Injury.
Ideal for massage purposes.
Axhilirit© Pain Therapy Balm may be used as a soothing and therapeutic balm to manage pain related to muscle injuries and stress.
Ideal for massage purposes and for a longer release period of the pain combating oils.
Suitable for Pain relief from:
Muscle injuries
Stress related spasms
Back ache
Arthritis
Joint Aches
Sprains
Bruises
Muscle Strains
Sinus Pain
Menstrual and abdominal pain
Headaches
Sore Feet
Ingredients: natural plant oils, pine oleoresin oil, arnica, camphor, cinnamon, eucalyptus, flower oils, geranium, ginger, lavender, menthol, peppermint, wintergreen, tea tree essential oils in pharmaceutical grade petroleum (balm) / organic cold pressed coconut oil (oil).
Precaution:
For topical application.
Can be used as a vapour treatment.
Healing Oil Products contains traces of NUTS.
Keep away from eyes.
Keep away from children and uninformed people.
Do not use any extra arnica containing products with Axhilirit© Pain Therapy Traditional Healing Balm.
Do not use during Pregnancy.
Do not use while on blood thinning medication.
Please refer to SAFETY section for comprehensive information on the use of Axhilirit and Rejuvinit products. 
Directions:
Pain Management:
Gently massage a tiny amount into the problem area 1-3 times a day.
In acute cases, a tiny amount of the balm can be applied hourly for the first 8 hours after which the dosage must be decreased to 1-3 times per day only.
Do not continue with treatment for longer than 7 days without consulting with a healthcare practitioner.
Axhilirit© and/or Rejuvinit© Oil may be applied to the area before application of the balm
Headaches:
Massage a tiny amount into temples.
Sinus Pain:
Massage a tiny amount into cheekbones and above brows. Apply a tiny amount to hands and breathe in vapours, or place in a vaporiser. Can also be applied to chest for constant vapours to the face.
Therapeutic:
Axhilirit© Pain Therapy Balm is prepared in a pharmaceutical quality petroleum jelly which makes an excellent massage ointment suitable for all kinds of aches and pains.
Apply to arthritic areas before bed time and when waking up in the mornings.
How Axhilirit© Pain Therapy Products works: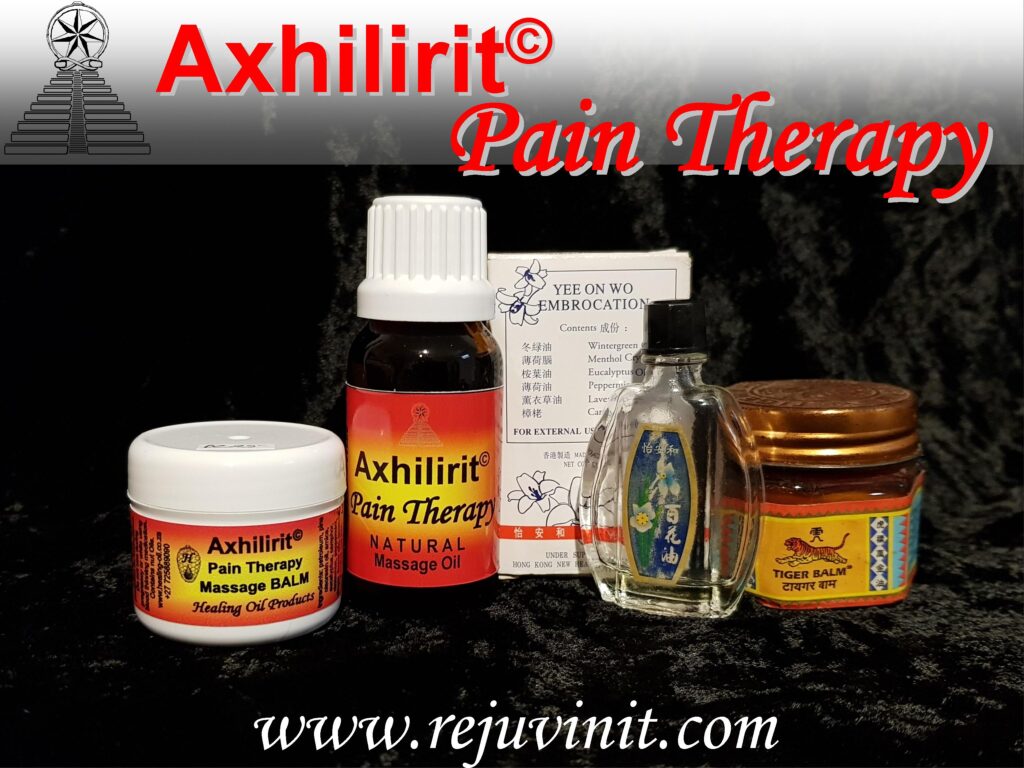 The therapeutic and soothing properties of the combination of oils are activated by heat, therefore it is best to gently massage the balm into a painful area. Blood flow to the area is increased to assist in healing. The arnica oil, renowned for its pain relieving properties, is activated and gently and unobtrusively overrides the body's pain impulses, leaving the user calm, relaxed and virtually pain free. No extra carrier oils should be used with the balm except a few drops of Axhilirit© or Rejuvinit© if needed.
Feedback from Clients: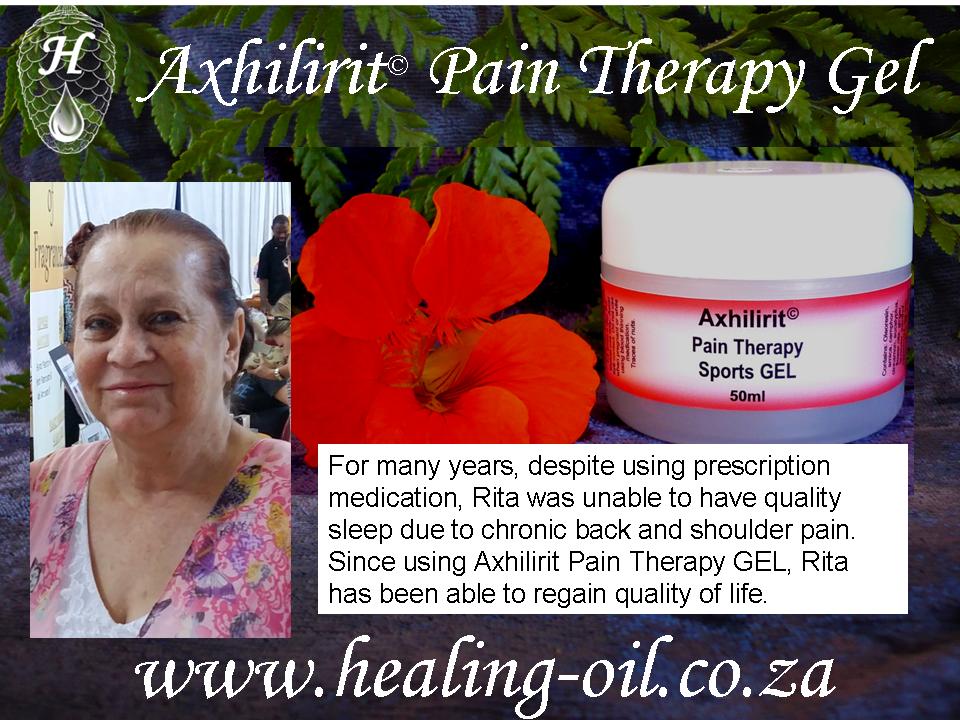 Axhilirit Pain Therapy Products for Therapeutic Massage
"I am a massage therapist and use the Axhilirit Pain Therapy products with great success on my clients. They say I have magic hands, but I know it is the Axhilirit products. " -Abigail's Therapies, Edgemead, May 2014
I suffered from severe chronic headaches for 45 years with pain radiating from tender point on my shoulders, neck and scalp. I recently started applying Axhilirit Pain Gel on the tender spots and have alleviated the pain to such an extent that I don't have to use painkillers anymore. – Letter: Rachel Retief, Hermanus, 13 November 2012
"Axhilirit pain balm, truly amazing. Painful feet, neck, back, anything, it works like a bomb. Great customer feedback. I love it :)" – Facebook: Rene Oliver, Monday, October 8, 2012 8:17pm

Pain & Anti-Inflammatory Sports Gel – for Restless Leg Syndrome
"I am sure you do not expect this feedback … we are very enthusiastic users of your Pain Gel … for all sorts of needs, pain, cough, muscular, etc, etc …… but lately i discovered that i can use it for """ walking/wandering legs""" – you can edit this but it is when you feel that you must move your legs and feet. Out of desperation i just put it on and since then it works everytime!!! Thanks for a wonderful product." – Facebook: Annatjie Coetsee, Sunday, October 7, 2012 8:42am
Hi Ronald. I have had a painful knee for the past month, that just gives in late afternoon when I am tired. It is my second day on the Axhilirit Pain Balm, and for the first time in almost a month my knee is pain free. – Rene Oliver posted to Facebook, September 11, 2012 
Meilo Healing Posted on Healing Oils Facebook wall: My youngest hurt his shoulder in rugby on Saturday… his 1st choice – Pain Balm….
I keep the balm with me at all times. When I feel a stress spasm coming on, I immediately massage a tiny amount into my shoulders, preventing the spasm from escalating into unmanageable proportions. My children love it too and apply it to bruises and sprains. – Jeanine, Kleinmond, Mar 2011
I do not know what you put extra in that Balm, but it works like a charm! I've tried it on friends and family and they all want this MAGIC pain relief potion. It is the only thing that helps me with almost immediate relief from chronic pain in my neck. Will keep you updated. – Cornelle, Pringle Bay, Mar 2011
I use the balm on my clients and they all report that it is turning their worlds into pain-free zones. I promote it actively to be used in all sorts of chronic pain situations. I love to use it on myself as well. It complements the Healing Oil Range, making it a complete healing and beauty range to keep on hand in the house. – Renate, Pringle Bay, Mar 2011
Copyright © 2009-2023 Rejuvinit Beauty