Rejuvinit© Gold Anti Ageing Serum
(Picture/feedback gallery at bottom of page)
Rejuvinit© GOLD All Natural Anti-Ageing Serum
* Natural 'Botox' Alternative
* Turn Back Time 5 to 20 years
* Loyal Clients in 35 Countries
* Initial results seen within 15 to 20 minutes
Ideal for:
Stubborn and Severe Wrinkles on the face, neck and hands
Frown lines, smile lines and lip wrinkles
Smokers lines
Can be used on wrinkles around the eyes and upon the eyelids
Alleviates puffy or baggy eyes
Exquisitely compliments most other treatments such as Galvanic and Dermaroller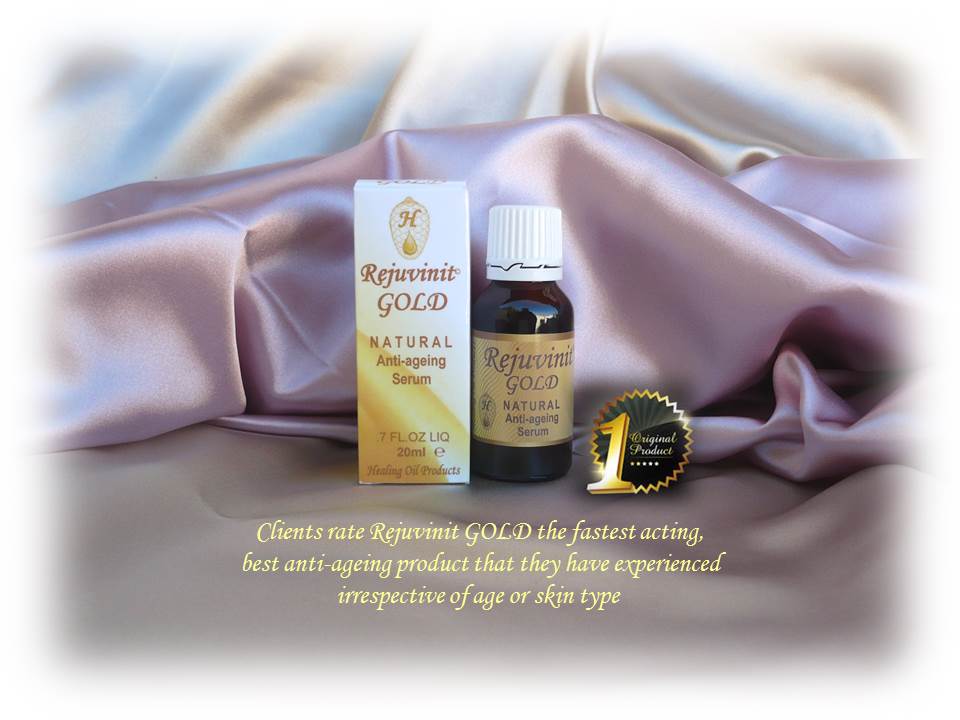 Natural anti-wrinkle treatment that works from first application.
Affordable alternative to chemical injections and Botox treatments.
Effortless alternative to time-consuming anti-ageing treatments.
Effective anti-ageing treatment that leaves lasting effects.
Clients fall in love with Rejuvinit© Gold, referring to it as a natural 'Botox'.
Some clients affectionately call Rejuvinit© Gold Boere-Beautox©
Remarkable results have been noted within 20 minutes of application! The older, more damaged skin usually needs a little longer to start showing the initial softening effects on severe wrinkles.
Specially formulated for SEVERE and STUBBORN wrinkles, Rejuvinit© Gold repairs the damage to wrinkled skin by kick-starting the body's natural ability to repair itself and re-produce its own collagen for revitalized skin.
Results may vary among users, but generally the plumping up of wrinkles is visible within the first 20-30 minutes of application with radical, long-lasting results in 5-7 days.
Optimum results occur with regular use (1-3 months) after which only 'top-ups' are needed, especially if Rejuvinit© Beauty Oil is incorporated as a daily beauty routine.
Years of neglect cannot be undone within 20 minutes or 5ml of oil as severely damaged and depleted skin takes time to rejuvenate.
One drop covers approximately 10 x 10 cm of skin.
10ml contains approximately 250 drops of oil.
Shake bottle before use.
Use as a luxurious bath oil by adding 5-10 drops to bathwater.
Store tightly closed at room temperature.
Contains: Natural plant oils, oleoresin oil, proprietary blend of essential floral oils including pine oleoresin oil, neroli, rose, jasmine, geranium and tea tree essential oils, marula and jojoba nut oils. No toxic ingredients. No Preservatives.
Precaution:
Do not use Rejuvinit© GOLD during pregnancy
For topical application
May present a detoxifying effect in some people, leading to a slight period of discomfort. If discomfort persists, please discontinue using the product
Contain traces of nuts
Application of Rejuvinit© GOLD:
Anti-aging and wrinkle treatment:
Gently massage a drop at a time into problem areas. One drop covers approximately 10x10cm skin area.
Start with twice a day application for at least 7 days, toning down to once (or twice) a day, until the desired results have been achieved.
A warm sensation indicates the restoration of cells and that adequate oil had been applied. Tone down on treatments or give the skin a rest for a day or two before continuing with treatments until desired results have been achieved.
A rest from treatment every 21 days, or so, is advised.
Rejuvinit© Gold can be used as a LUXURY rejuvenating and relaxing bath oil using 3-5 drops per bath.
Rejuvinit© Gold can be used upon the eyelids and around the eyes to alleviate puffiness and wrinkles. If Rejuvinit© Gold seems to be too concentrated, use Rejuvinit© Beauty Oil instead.
Use with caution around the eye, as the oil may cause a burning sensation if it should come into the eye itself. Rinse eye with water. Rejuvinit© Gold does not contain any toxic ingredients and no side-effects have been noted.
Rejuvinit© Gold and Rejuvinit© Beauty Oil should be used as first application on a clean skin. Sunblock, base, extra moisturizer and make-up can be applied within 5 minutes of using Rejuvinit© products.
Rejuvinit© Gold acts as a natural cleanser, toner, skin rejuvenator and moisturizer.
Maintenance care:
Maintenance care consists of one drop of oil gently massaged into previously problematic areas once or twice a week, or add 2 drops of oil to your daily skincare routine.
The damage to the epidermis (wrinkle) is unfortunately permanent damage where the cell memory insists in trying to conform to the 'incorrect' furrow.
With long-term use of Rejuvinit© products (6months>), it has been found that the cell memory is overridden in most instances and the skin returns to a more youthful appearance, resulting in a long lasting effect where the skin do not de-generate rapidly after discontinuing the use of Rejuvinit© products.
Rejuvinit© Gold and Rejuvinit© can also be used on youthful skin to negate any damage before it can become a permanent problem.
Rejuvinit© Gold and Rejuvinit© can be used on young ladies (teenagers/early twenties) and will help alleviate a number of female-related problems. See section on Rejuvinit© Beauty Oil.
Prevention is better than cure. Look after your skin.
It is now just so much easier.
Tips from clients for clients:
For best results, use Rejuvinit© Gold in conjunction with Rejuvinit© Beauty Oil, a general skin toner and rejuvenator, that can be incorporated daily for general skin care.
Results may vary amongst users, but a general time frame is plumping of wrinkles within the first 20-30 minutes of application and drastic results within the first 5-7 days.
Optimum results occur with regular use (1-3months) after which only 'top-ups' are needed, especially if Rejuvinit© Beauty Oil is incorporated as a daily beauty routine.
Some clients prefer to use only Rejuvinit© Gold as their daily moisturizer, finding all their cosmetic needs met within one product.
DO NOT FORGET THE NECK AND HANDS !!!!!
Keep a photo diary of your renewal by taking photos in the same setting and lighting at least every 14 to 21 days. You see yourself every day, thus not realizing how your skin improves. By day 5 it is usually too late to take a 'before' photo, so please take a photo before starting Rejuvinit© Products.
Special occasions:
When extra effort is needed to show off your non-surgical facelift, apply Rejuvinit© Gold on the morning of the special occasion, as well as approximately 30 minutes before final make-up. This will surely make your friends wonder why you have not aged at all!
How Rejuvinit© works:
The oil is rapidly absorbed by the skin right down to the stratum basale where the skin cells are produced. Due to Rejuvinit© accelerating the production of healthy cells, the normal three week replacement period of the skin is accelerated, resulting in the rapid replacement and shedding of discarded cells. This may leave the skin feeling dry and tight. The skin may even respond with a low-grade inflammation while the old cells separate. During this time additional moisturizer may be applied to assist the shedding of cells. The skin should now be more balanced (pH) and healthier looking. Some problem areas may need additional treatment.
Gallery/Feedback: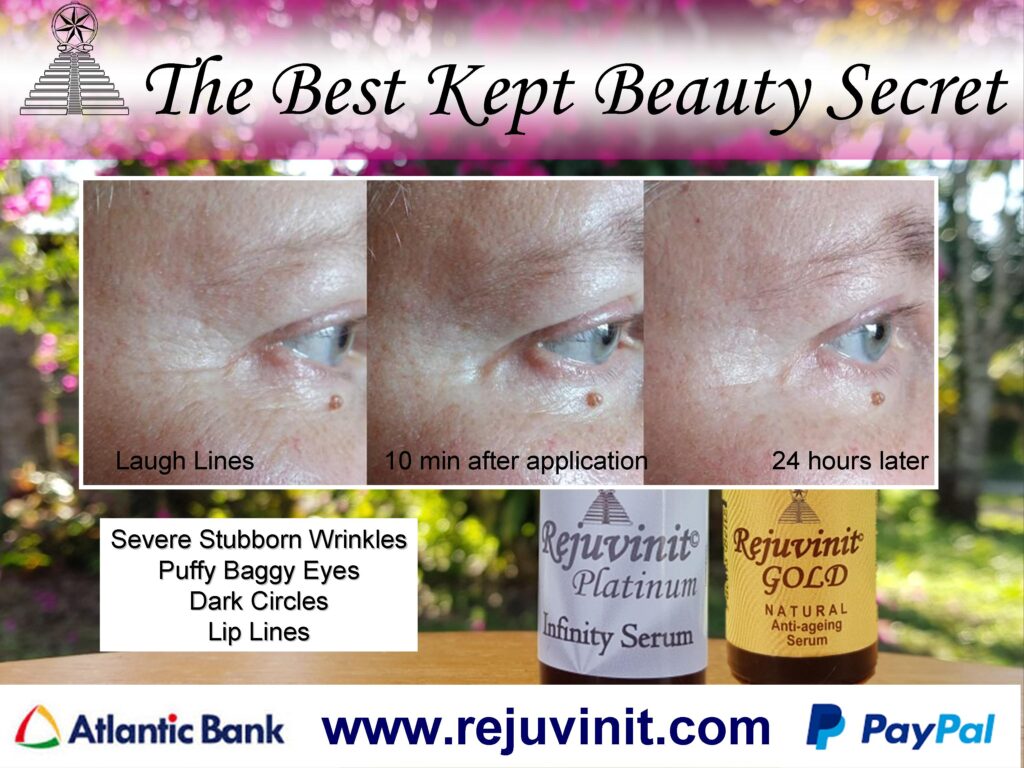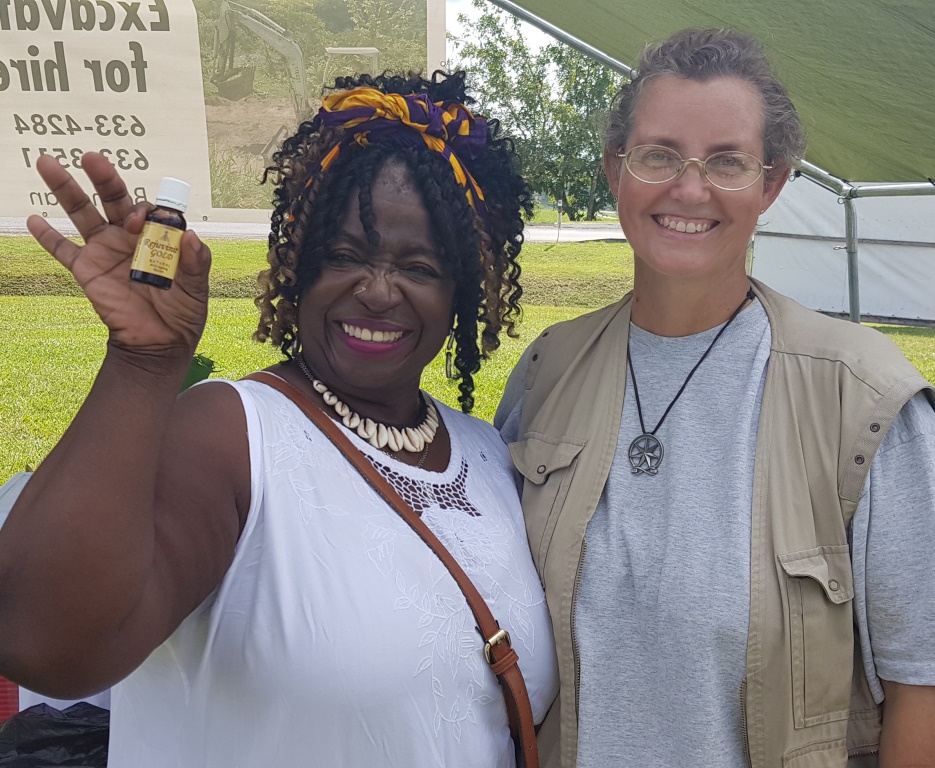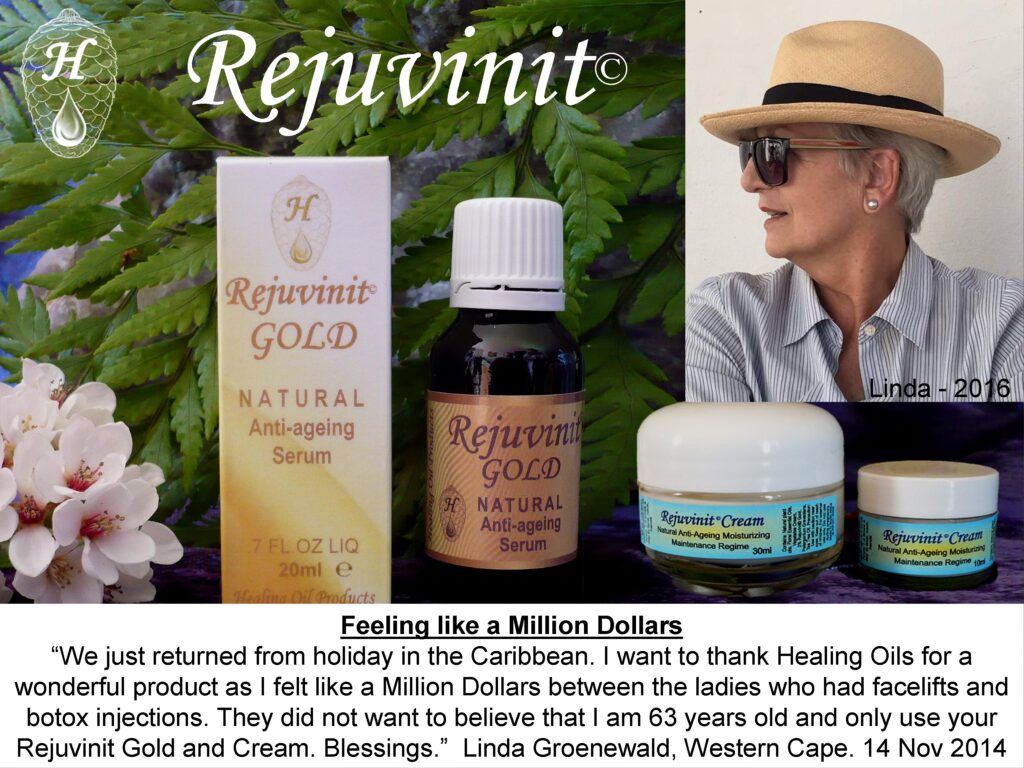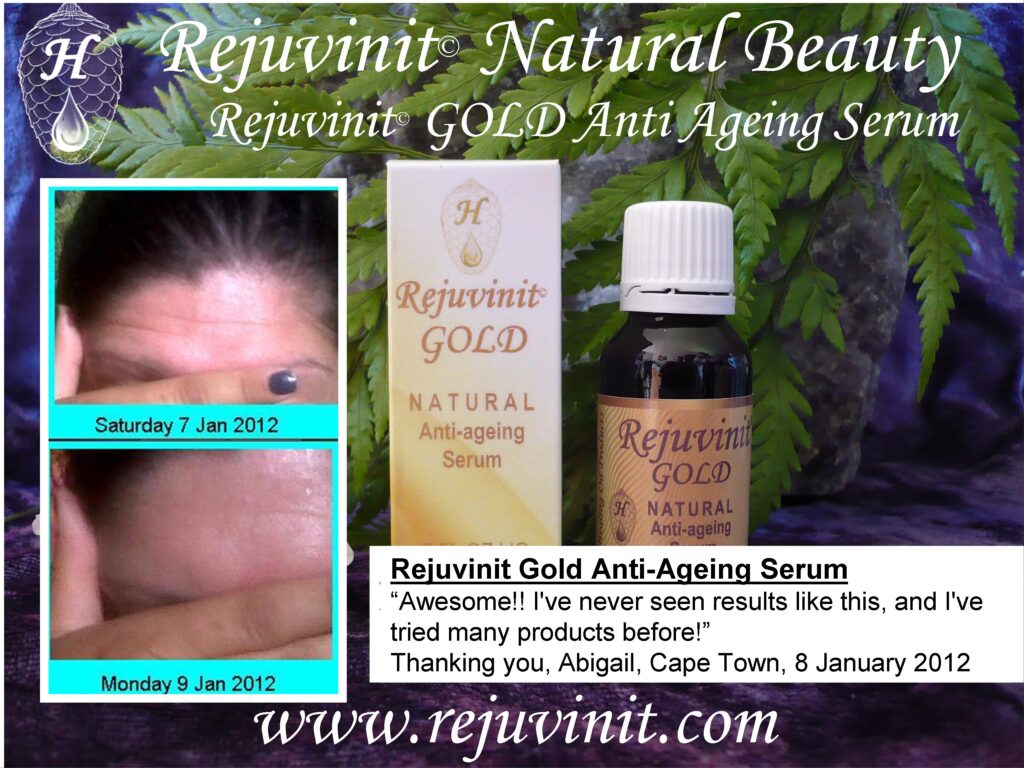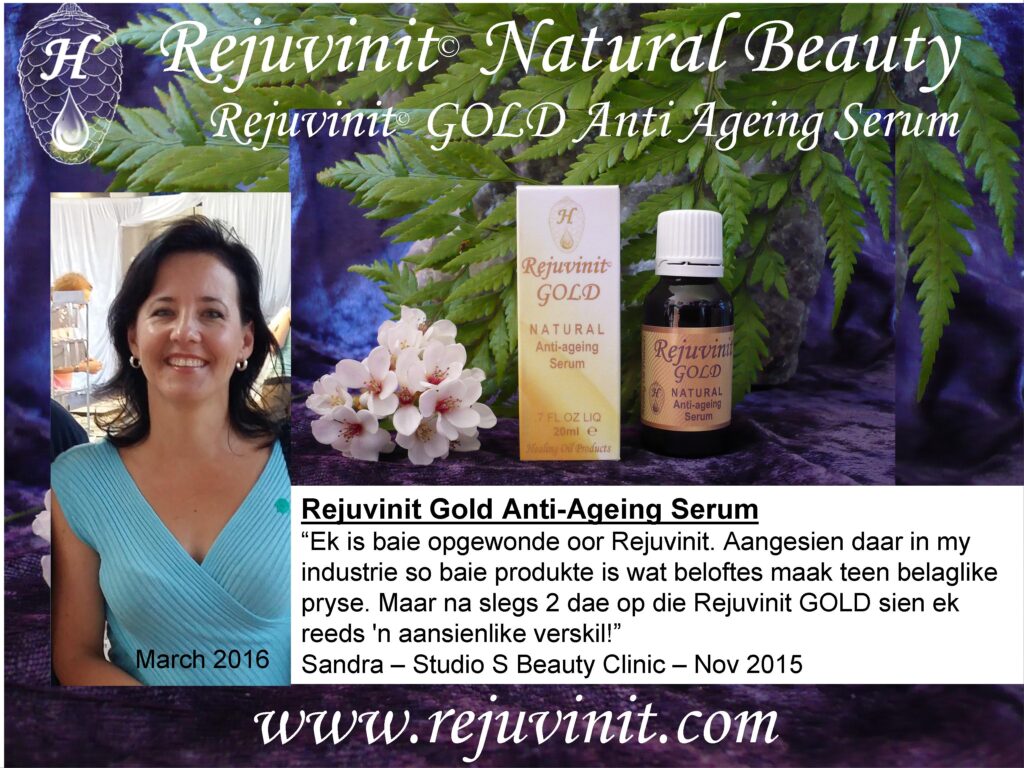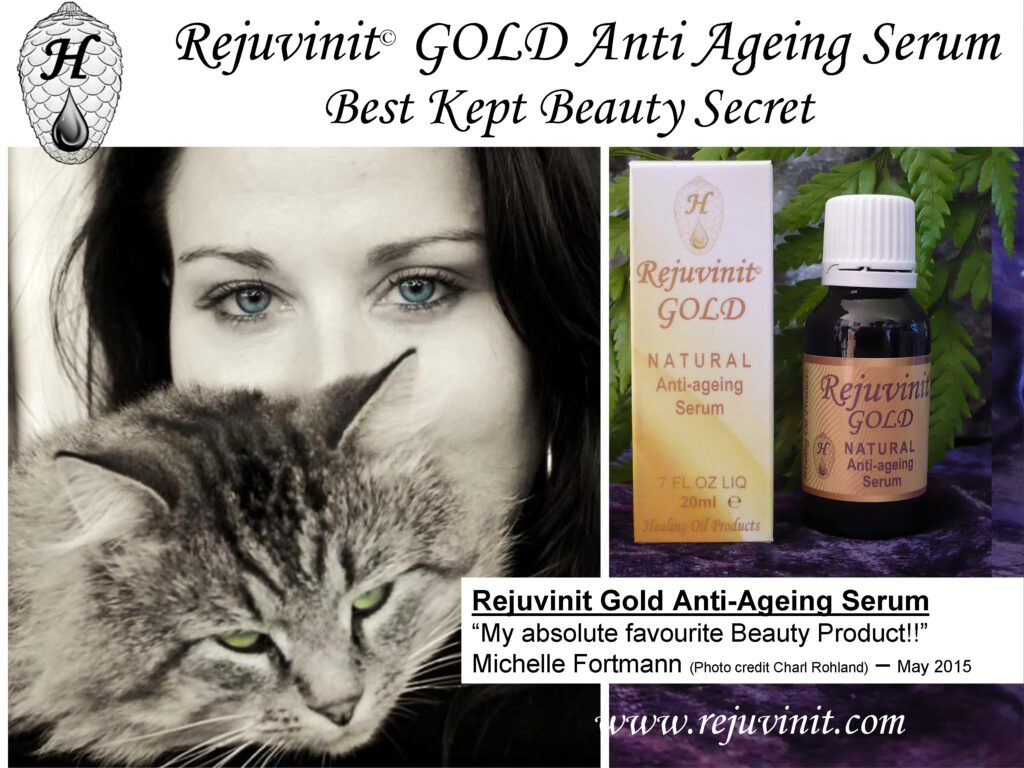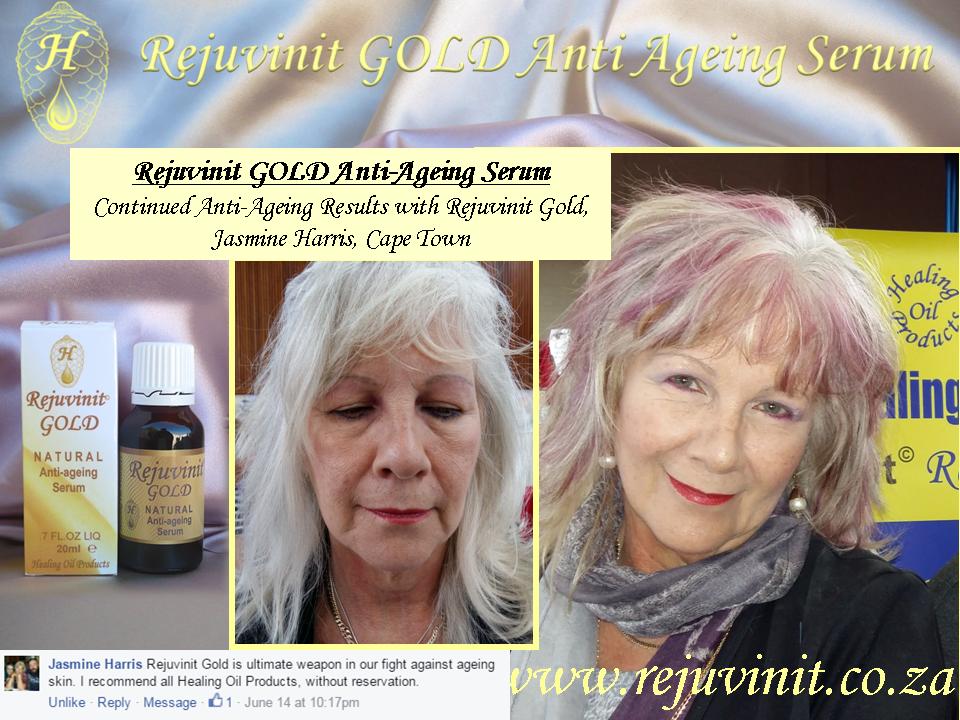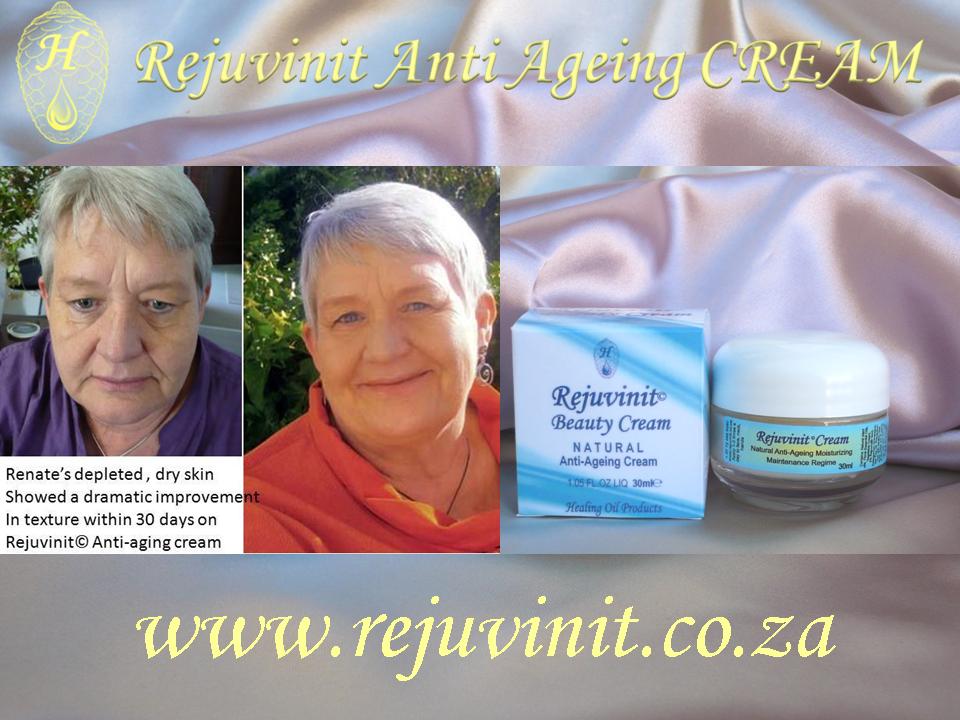 Rejuvinit Gold cream has been discontinued, but you can make your own by mixing 2 drops with 5ml of your current moisturizing cream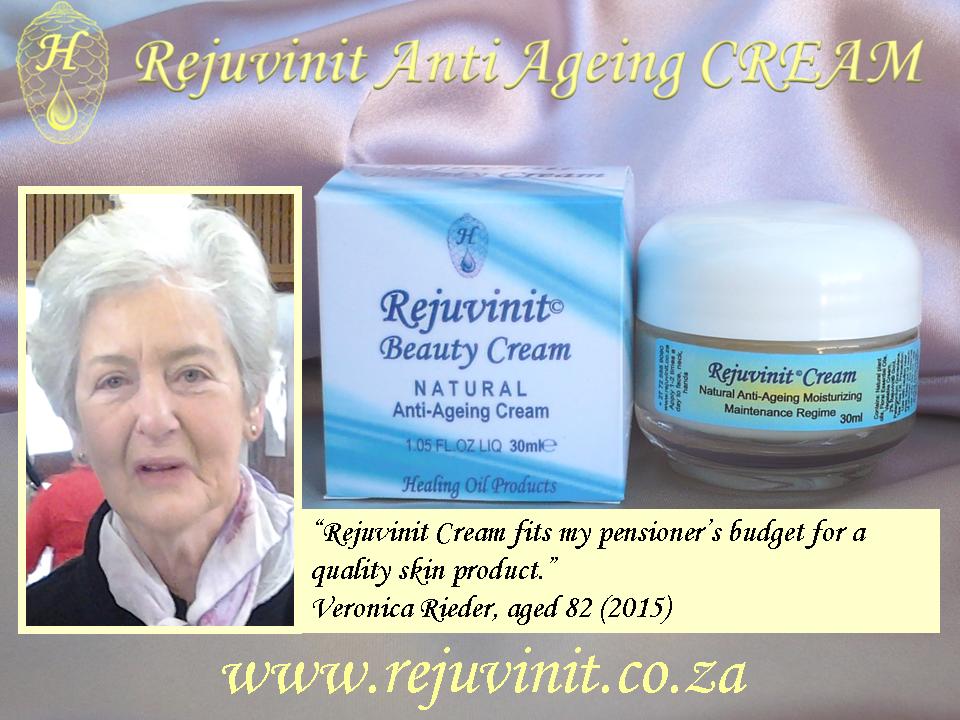 Copyright © 2009-2023 Rejuvinit Beauty